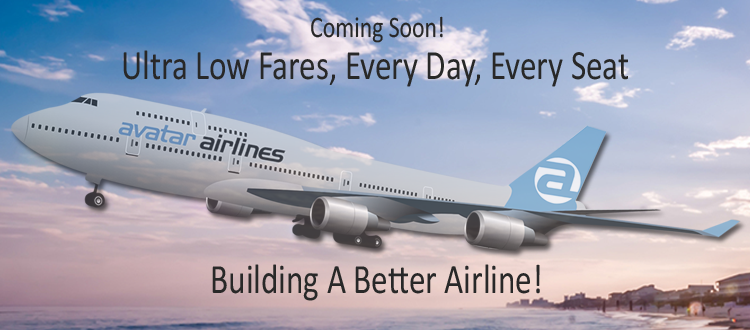 Startup Avatar Airlines Launches New Crowdfunding Campaign to Raise Funds
Recently Avatar Airlines launched a new crowdfunding initiative at www.HelpAvatarFly.com to help to raise funds for preliminary operations. The campaign is managed by the airline and allows the public to give as much or as little as they like, with donations ranging from $5 to $9,750. The 30-day campaign goal is set at $5 million.
Supporters who donate will receive exclusive perks such as the opportunity to join the Avatar Airlines flight team as a Pilot, First Officer or Flight Attendant*, a fabulous Vegas getaway or the adrenaline-pumping Captain for The Weekend Experience in Miami, Fl.
Avatar Airlines' strives to build a better, truly affordable airline for all travelers. By utilizing Boeing 747-400 planes – which are able to carry four times as many passengers as the typical 737 – as well developing other profit centers, the airline's fares are projected to be 50% or lower than current carriers, thus making travel truly affordable.
Sample fares would include: Los Angeles to New York, $79; Las Vegas to Los Angeles, $19; and New York to Miami, $49**.
* Perk is for an interview only. Must meet minimum requirements for job position. Employment is not guaranteed.
** Based on one-way fare; exclusive of taxes and fees.
Donate today at www.HelpAvatarFly.com .