CARGO
Let's talk about cargo. The cargo market among passenger airlines in the United States has all but dried out, primarily because of the downsizing of aircraft along with increased load factors.
The wide body aircraft has disappeared over the last ten years while most U.S. airlines are now flying either the Boeing 737 or Airbus 320 series aircraft. Neither aircraft can carry either pallets or containers and because of their nearly full loads lack the available weight factor necessary for all but small packages.
On the other hand, Avatar Airlines plans to fly the Boeing 747-400 aircraft exclusively with the capacity to transport 581 passengers and 100,000lbs of pallet or containerized freight. Although, Avatar believes in most cases 75,000lbs might be the limit, since it would likely be maxed out by available cubic feet first.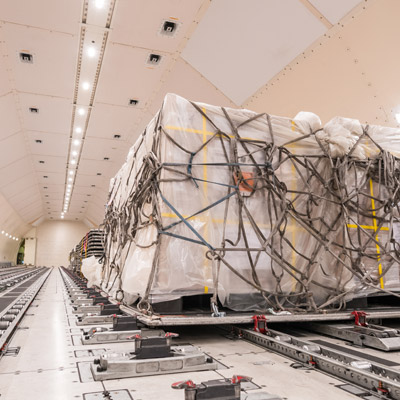 In many cases, an aircraft with a full load of freight would not need to carry a single passenger to turn a profit. Since wide body aircraft are continuing to fly into this country from foreign lands and they are forbidden by law to go beyond their port of entry they must dismantle their pallet and containers to put the on trucks to take them to their final destination. This opens the door to lucrative contracts between these foreign airlines and Avatar Airlines. In many cases Avatar can compete with trucking since its costs of transporting freight is nearly all covered by its passenger revenue.
Ideally Avatar intends to lease the belly's of the aircraft to such companies as Amazon, FedEx, UPS as well as the the U.S. Postal Service, rather than getting into the actual freight business.Contact us today for our Cargo brochure and additional information about Avatar Airlines Cargo services.